Three European Union's Horizon 2020 projects, EEnvest, Triple-A and Quest, are developing innovative solutions to tackle the actual challenges related to Energy Efficiency Building Investments focusing on how to render those investments attractive to the financial sector. Last Thursday 29th of October they joined forces on "De-risking Energy Efficiency Investments" common workshop that took place at Sustainable Places 2020 to expose their approaches and discuss potential synergies.

Annalisa Andaloro, from EURAC Research, started the Workshop with the Welcome Statement and following, Rachel Desmaris, from R2M Solution, did the introduction of the overall objective of the workshop. The three projects have the same objetive: increase investments in sustainable and energy efficiency buildings by lowering the risk attributed by investors to this typology of investments.
Then, the three projects presented their approaches and future goals.
EEnvest was presented by Annalisa Andaloro. The project aims to develop a platform that will reduce the associated risk in Energy Efficiency Building Investments, allowing investors and building owners to evaluate the risk of their investments. 
Triple-A, presented by Haris Doukas, is focusing on enhancing at an early stage the investment value chain of energy efficiency projects
QUEST project, that was presented by Dr. Stefan Plesser, wants to improve quality management investments for energy efficiency.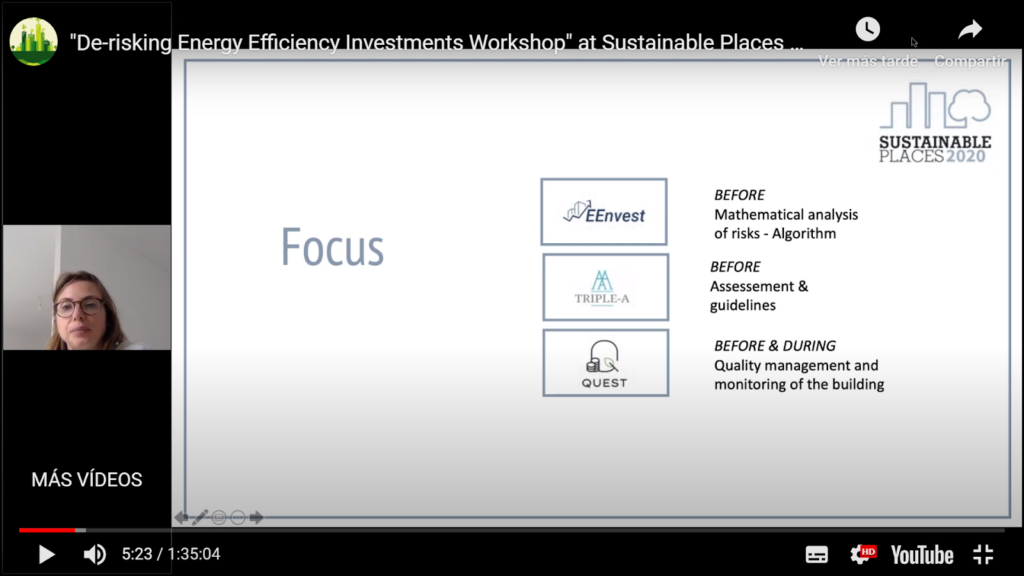 After the presentations, Rachel Desmaris moderated the Discussion on horizontal questions and later on, they talked about the cooperation opportunities for upcoming months and next steps to follow. The three projects agree that sharing and connecting their individual building study in order to replicate the same methodology, in case is right, to the other projects would be an excellent proof of concept validity of the methodologies for de-risking energy efficiency investments.
For ending this interesting and collaborative experience, Annalisa Andaloro and Stavros Stamatoukos, from the European Commission, were in charge of doing the final conclussions.
The challenge of investing in energy efficient buildings is due to the fact that public grants are not enough in volume, in addition to that, they require the mobilization of the private sector and a sustainable investment flow over time. Those challenges are very well defined in the context of the above mentioned projects, to overcome all these complexities and incentivize investment in sustainable projects. Moreover, there is growing evidence of the multiple benefits generated by sustainable energy projects and this can significantly influence the decision making of private investors, which is the aim of EEnvest, Triple-A and Quest.
You can read the presentations and watch the entire workshop HERE.